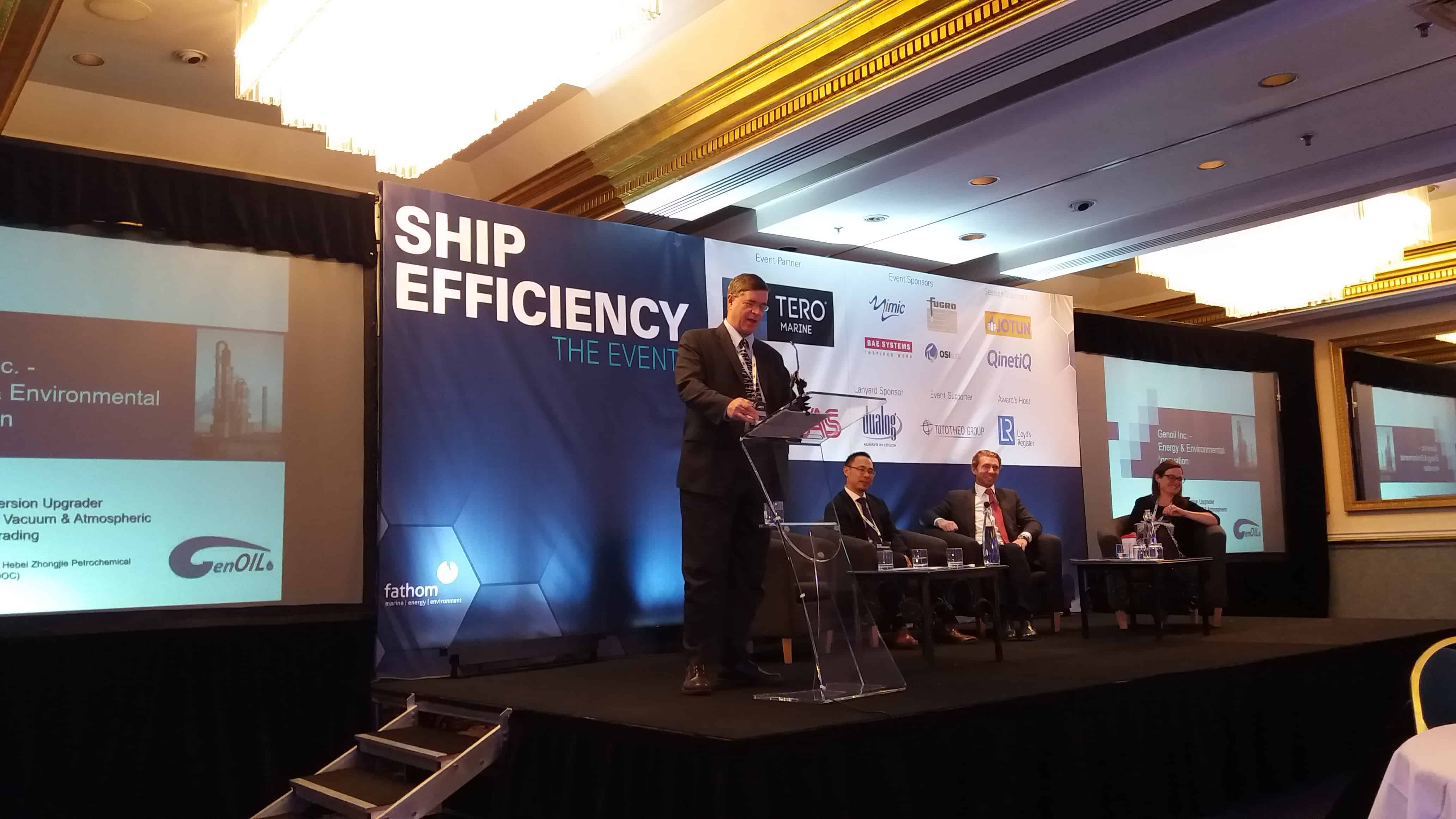 Award in recognition of GHU technology's ability to solve supply, cost and compliance challenges of 2020 global sulphur regulation
Calgary, Alberta – November 3, 2016 – Genoil Inc. (GNOLF), the publicly traded clean technology engineering company for the petroleum industry, has been awarded the 'One to Watch' award at the prestigious Fathom Ship Efficiency Awards 2016.
The award recognizes the potential of a commercially viable project, concept or technology that can lead to significant progress in advancing maritime energy efficiency and environmental impact reduction. The panel of prestigious judges included Katharine Palmer, Environmental Manager at Lloyd's Register Marine; Mark Cameron, Chief Operating Officer of Ardmore Shipping; and Arthur Bowring, the Managing Director of the Hong Kong Shipowners Association.
The award was in recognition of Genoil's ability to help the industry address issues in the marine fuel supply chain when the global 2020 sulphur cap is introduced, which stipulates that vessels must burn fuel with a sulphur content of less than 0.5%.
Genoil's proprietary technology, the Hydroconversion Upgrader (GHU), converts heavy crude oils and refinery residual oil products which contain less carbon, meaning cleaner, lower emission energy. The GHU can take Heavy Fuel Oil (HFO) and turn it into compatible and more cost-effective low sulphur fuel oil, compliant with new the new 2020 regulations while maintaining all of the other standard marine fuel oil qualities that make the most popular fuel source amongst shipping lines world wide. Genoil's innovation improves upon the existing data-verified hydroconversion technology, which is currently used to reduce sulphur levels in every refined product, and is capable to reduce sulphur levels to as low as 0.000005 %. A Genoil GHU unit can be placed in locations including receiving terminals, pipelines and ports.
Commenting on the award win, Bruce Abbott, President and Chief Operating Officer, Genoil said:
"Winning the 'One to Watch' award at the Fathom Ship Efficiency awards is a fantastic achievement for Genoil. The issue of compliance with the global 2020 sulphur cap is one that affects everyone in the shipping industry. With an anticipated rise in crude prices by 2020, which will increase the cost of distillates, as well as concerns regarding availability, the pressure is on. This award demonstrates that there are solutions available to the industry, and that Genoil's GHU is one that will have a significant impact on ensuring supply and compliance, as well as profitability for all stakeholders involved in the marine fuel supply chain."
Genoil has filed more than 20 patents in relation to the technology, and has accrued an abundance of test data that verifies the viability of the product. The viability of the technology is also demonstrated through significant third-party support. In 2015, Genoil signed a $700 million joint venture with Chinese government refining operator Hebei Zhongjie Petrochemical Group Company Ltd. (HYT), and in April this year the company secured a $5 billion letter of intent for the funding of a 500,000 barrel per day (bpd) desulphurisation and upgrading project to be located in the Middle East. The project will see the implementation of Genoil's proprietary technology producing 500,000 bpd of low sulphur crude oil.
About Genoil Inc.:
Genoil is a publicly traded Canadian clean technology engineering company for the petroleum industries.   Genoil is headquartered in Edmonton Alberta, with offices in Calgary, Sherwood Park, New York City, Constanta Romania, and Dubai & Abu Dhabi. Genoil's has developed its proprietary technology, the Hydroconversion Upgrader (GHU), which converts heavy crude oils and refinery bottoms into clean burning fuels for transportation industries including shipping. The GHU can be placed in remote locations, including receiving terminals, pipelines and ports. The company operates one of the largest and most advanced pilot & design test facilities in the world, from its 147-acre site in Alberta, Canada,
Forward Looking Statements:
Statements included in this release may constitute forward-looking statements within the meaning of the Private Securities Litigation Reform Act of 1995. Such statements involve a number of risks and uncertainties such as competitive factors, technological development, market demand, and the company's ability to obtain new contracts and accurately estimate net revenues due to variability in size, scope and duration of projects, and internal issues in the sponsoring client. Further information on potential risk factors that could affect the company's financial results can be found in the company's Reports filed with the Securities and Exchange Commission.
For further information, please contact:
David Lifschultz
T: + 1 212 688 8868