In February 2015, Genoil & MCP Munich Capital Partners GMBH, have entered into an agreement where MCP is mandated to provide financial structuring and advisory services to Genoil oil upgrading projects. MCP will work to arrange equity and debt financing for the planned GHU facilities. MCP's who has vast experience in the energy sector will provide financial and procedural structuring for funding Genoil's projects and to introduce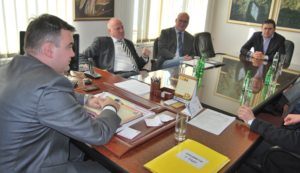 Genoil to their extensive contacts of institutional and private investors around the world.
MCP Munich Capital Partners is a partnership of finance industry professionals dedicated to enabling complex or challenging financial transactions in select areas of infrastructure and energy expertise. As individuals, MCP partners have all had a lifelong career in the finance industry, whether as bankers, insurance executives or asset managers.
MCP was founded by their CEO Stefan Volk who has over 28 years of industry experience in banking and financial markets in senior positions in banking, corporate finance and asset management, including positions at Dresdner Bank, UBS and Hannover Leasing.
Also on the MCP team is Managing Partner Constantyn Nieuwenhuis who brings in 24 years of capital markets and structured finance expertise at various banks in Germany, New York and Luxembourg.
Rukovodstvo opštine Pale se sastalo sa "MCP – Munich Capital Partners"