The Genoil GHU® Process
The GHU® complete upgrading facility has conversion rates of 70% to 90% based on the various types of feed stocks being produced: high sulphur, acidic, heavy crude, vacuum or atmospheric residue, or bitumen. The unconverted residue can be controlled by variations in temperature and pressure during the GHU® hydroconversion process. Controlling the amount of total residue being produced is done if the residue stream is to be gasified producing syntheses gas, where hydrogen is recovered and recycled to meet hydrogen consumption requirements for the GHU®. The remaining syntheses gas can be sent to fuel gas or used to produce power and steam generation through IGCC scheme.
Included in our on-going process development efforts with fixed bed reactors, we are also focusing on "on-stream" methods of catalyst replacement in the guard beds.
Some of the design test runs on different feed stocks are listed below with their conversion rates:
| | |
| --- | --- |
| Company | Conversion Rate |
| Canadian Client | 80% of Bitumen Feed |
| U.S. Client | 88% of Vacuum Residue |
| Eurasian Client | 94% of Whole Crude |
MAIN FEATURES OF THE GHU® UPGRADING PROCESS
Flexible hydroconversion process: desulfurization, conversion hydrogenation and carbon reduction in one stage.
New gas oil blending system which desulfurizes 95+% at up to 75% lower operating costs than competition.
No need for external source of hydrogen or natural gas with integrated IGCC Unit.
Upgrading process applicable to sour, acidic, heavy crude and heavy refinery feed stocks.
Proprietary devices to mix the hydrogen and the hydrocarbon stream.
Super-saturation of the liquid hydrocarbons with hydrogen.
High conversion of the heavy fractions of the feed at moderate operating conditions.
Engineering EPC Alliance with Beijing Petrochemical division of Yanchang Petroleum Group (Press Release).
BPEC EPC Guarantee for project and Genoil GHU Process to Clients.
Production of stable products at high conversion levels.
Premium sweet synthetic crude product: no penalty for density or sulphur.
Removes the need for expensive blending diluents.
Flexibility of operation: "dial" the conversion level and the product properties by changing the operating temperature.
Upgrader is economical at a 10,000 bpd capacity.
Operating costs are lower than for existing processes –  $ 4.00 per barrel.
Extremely low capital cost $ 7-10,000.00 per barrel.
Upgrades oil as low as 6.5 API.

10 bpd pilot demonstration unit in Sherwood Park Alberta Canada.

No coke production.
Alliance with the Shaw Group's Stone & Webster's 32,000 engineers who will assist Genoil as EPC contractor to build, and stand behind th GHU (Shaw Press Release)
Capital Cost Comparison
Genoil GHU® Upgrader vs. Traditional Coking
The table below shows the Capital Expenditures and Unit Costs at graduated processing capacities for Genoil GHU upgrading facility versus a traditional delayed coking upgrading facility.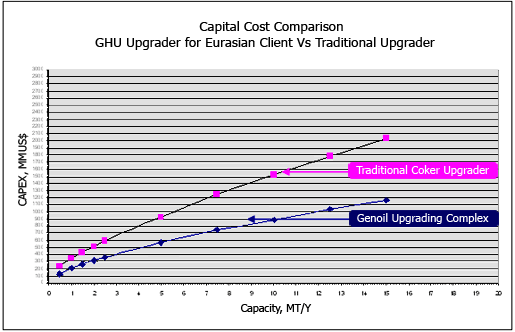 GHU®
The Genoil Hydroconversion Upgrader is an improved catalytic hydroconversion technology that economically upgrades and significantly increases the yields from high sulphur, acidic, heavy crude, bitumen, and refinery residues.

This innovative technology was designed to lower the capital investment and operating costs necessary for hydroprocessing today's growing sour heavy crude inventories and refinery bottoms with high conversion rates, or desulphurize heavy fuel oil fractions to meet new regulatory requirements. By employing proprietary mixing devices between hydrocarbons and hydrogen, among other innovations, the GHU® achieves higher conversion rates at lower temperature and pressures than traditional technologies like delayed coking and conventional hydrotreating / hydrocracking processes.