The Port of Huanghua is located in Cangzhou City, Hebei Province, about 90 KM east of the coast of the Bohai area, also at the at junction of Hebei, Shanxi and Shandong as well as in the middle of the Bohai area circle, position 38 19 30N / 117 52 30E.
Genoil retained Jicheng Tongda & Neal who was founded in 1992 and has grown to be one of the largest and most respected Chinese law firms. JT&N was awarded the China Business Law Awards Winner (in the International Trade category) by China Business Law Journal in 2014 and was nominated as the China Law Firm of the Year and the Beijing Law Firm of the Year by Asian Legal Business in 2013. JT&N Put out a press release about the comprehensive Genoil Zhongjie J.V. contract.
Joint Venture Project in China
On January 31, 2015, Genoil and Hebei Zhongjie Petrochemical Group Company Ltd. (founded 40 years ago) signed a $ 700 million contract to build one of the world's most advanced refineries utilizing Genoil's Hydroconversion Upgrader. The project will be located at the Zhongjie Industrial Park, Bahai Development Zone in Cangzhou City just north of Beijing, and adjacent to both the Port of Tianjin and the Port of Huanghua as well as the Shuo Huang heavy haul railway network. This excellent location provides it's obvious advantages for processing heavy oil and refinery residues and the refinery will utilize fuel oil as feedstock. The total current refining capacity at Hebei Zhongjie Petrochemical Group Company Ltd. is 2.5 MT/Y.
The project will have large refining margins as it will rely on lower quality feedstocks as opposed to feeds comparable to other refineries, we will be able to process a mixture of lower cost heavy, sour crude oil. This process will result in significant cost savings and much higher margins for this new state of the art refinery.
Project Description:
A new 20,000 BPD refinery based on the Genoil GHU Upgrader adjacent to Zhongjie's existing refinery.
GHU which consists of the patented Genoil Hydroconversion Unit and an integrated gasificaiton & combined cycle (IGCC) section.
GHU design to process a blend of refinery atmospheric residue and heavy crude (M-180).
Based on Fixed Bed Technology, GHU converts heavy feed into finished naptha, diesel, and gasoil. Unconverted heavy end is used as IGCC feed.
IGCC supply H2 and all utilities requirements.
Genoil began engineering studies for a complete feed stock pilot testing. A Genoil delegation travelled to China to determine the correct feed for their GHU facility and the appropriate plant configuration and integration into the existing refinery. After a testing agreement was signed, Hebei Zhongjie Petrochemical Group shipped the heavy oil to the Genoil Two Hills Alberta Pilot Demonstration Upgrading Facility in Canada. A comprehensive was performed on this crude oil and is sufficient for this new project.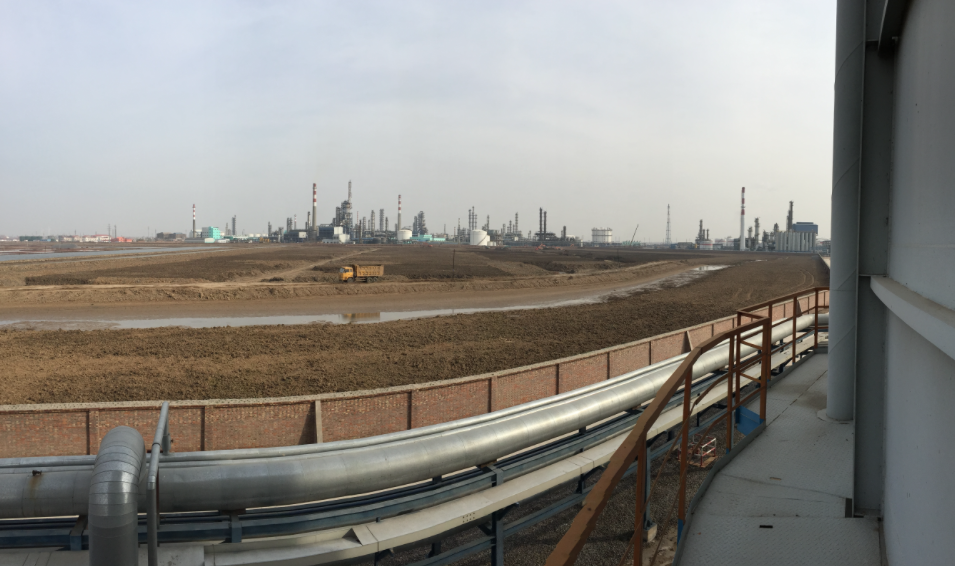 The partners have selected this site for Genoil and is already preparing the property for construction of the worlds newest most advance refinery
Total pilot plant cost was in excess of $1 million USD. Results of the tests showed a significant improvement in the quality of the upgraded oil versus the feed stock after processing through the GHU. After independent laboratory analysis, our engineering team completed the first level of engineering and design of the planned upgrading unit. A Chinese engineering firm has completed an economical feasibility study which estimates a 57% rate of return for international product sales.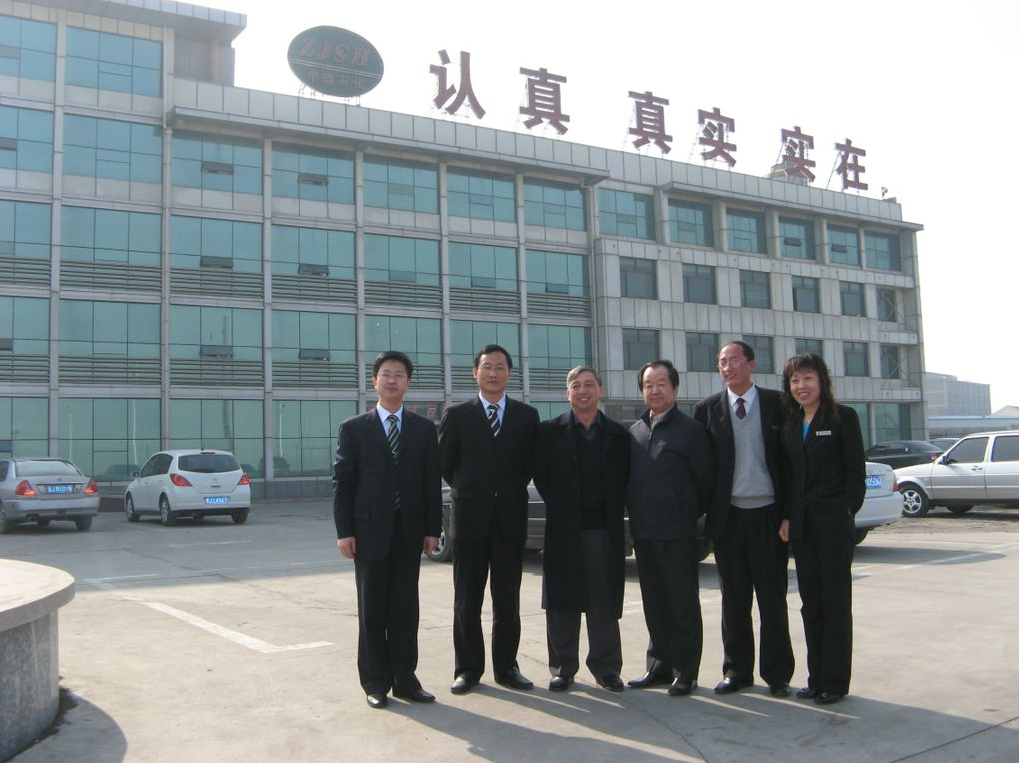 Genoil Engineer Peter Chung Standing with Hebei Zhongjie Petrochemical Group Company Ltd.'s owner Wang Zhenghua & President Guochen Yu
The GHU Upgrader for Haiyitong will combine the proprietary Genoil Hydroconversion Unit and an Integrated Gasification Combined Cycle unit (IGCC), which produces its own hydrogen to support the hydrogenation process and the utilities to run the facility, such as electrical power and steam. By integrating a gasification process, the overall upgrader becomes a truly bottomless, self-sufficient facility that is suitable to be added in the existing refinery complex.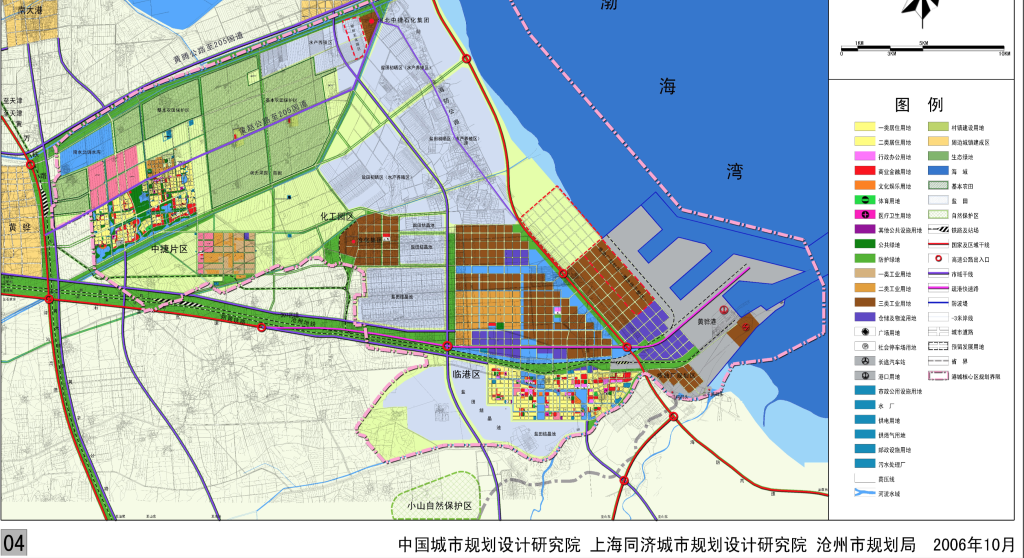 Basic design work was completed and the detailed engineering and procurement will start once financing is secured, and the estimated construction time two years.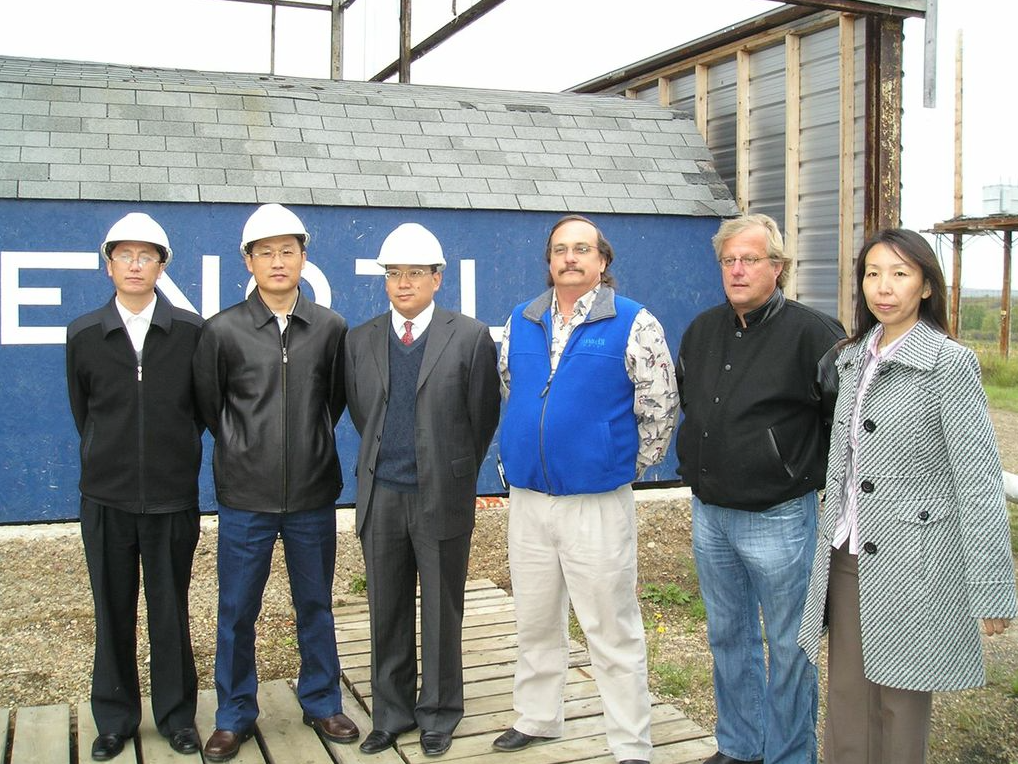 President Yu and Chief Engineer Mr. Zheng visit the Genoil team at Genoil's location in Two Hills Alberta Canada