Genoil reached an agreement to enter into a strategic partnership to work on the Vung Ro Refinery Project. Genoil is a provider of world-leading hydroconversion fixed bed technology for upstream and downstream oil and gas industry.
The central pillar of Vung Ro Petroleum and Genoil cooperation is the GHU® Hydroconversion upgrader. The upgrader can be utilized in refineries to increase light oil production by 15‐20 % (volume output) and to desulfurize the oil over 90% to help refiners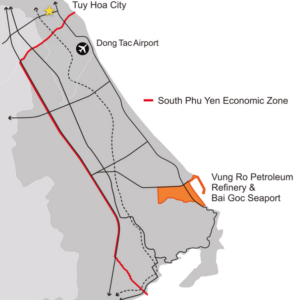 to comply with environmental regulations. This patented and unmatched technology is the best solution for the Phase 2 refinery development as it allows the VRP Refinery to be even more competitive on the global market, as well as meet all the IMO's demands and regulations that will have been imposed by 2020.
The VRP refinery and petrochemical project is a US$4 billion oil refinery, petrochemical and seaport development in the Dong Hoa district of Phu Yen province. The VRP project will be fully financed by foreign investors and managed by the VRP's team of international experts in the fuel-energy sector. Vung Ro Petroleum is undertaking stringent environmental practices to protect the site and its surrounds.
Genoil is a great partner and this cooperation exemplifies our dedication to successfully develop the Refinery and it reflects our desire to work with the companies that share our vision," said Kirill Korolev, CEO of Vung Ro Petroleum.
The VRP refinery project covers an area of 538 hectares in the Hoa Tam Commune, Dong Hoa District, Phu Yen Province. VRP is the driving force of industrial development in Hoa Tam Industrial Zone, a part of South Phu Yen Economic Zone in which the refinery project is located. The project site is close to Bai Goc deepwater seaport, approximately 7 km from the National Road 1A and National Railway, 10 km north of Vung Ro Bay, 15 km south of Tuy Hoa Airport, and 35 km south of Tuy Hoa City.
VRP and Genoil are looking forward to strengthening their cooperation in business and project development. Moreover, the two companies have agreed on including future aspects of desulphurization processes with reference to the future Refinery expansion.
Vung Ro Petroleum is building a world-class seaport to enable Phu Yen's emerging industries to connect to world markets. Marine facilities are vital to the effective running of a refining complex, and VRP will develop a seaport for the Hoa Tam Industrial Zone as part of the project. These facilities will be designed to ensure the efficient and economic receipt of crude oil, and to guarantee that products can be shipped quickly to optimize the refinery's operational efficiency.
The marine facilities will be located at the coastal site of the VRP refinery and will feature good vessel manoeuvring capability, less routine dredging for maintenance, the capability for future expansion, and will have minimal environmental impact.
The offshore topology in the vicinity of the refinery shows a rapid increase in water depth for 2 km offshore. For this reason, it was decided to provide a single point mooring (SPM) for crude vessels.