Member of the Board & Director of Engineering
Haiming joined the board of Genoil in November 2016. In addition to serving as a board of director he oversees business development opportunities, project development, engineering design, and technical support on the heavy oil upgrading technologies and projects.
Dr. HaiMing Lai holds Master and PH. D. degrees in Chemical Engineering from Beijing University of Chemical Technology (BUCT) in China. He is a registered member of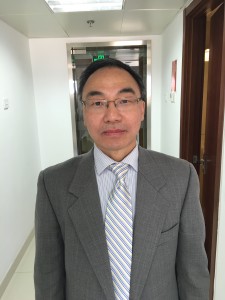 Association of Professional Engineers and Geoscientists of Alberta (APEGA).
Dr. Lai has over 28 years of experience in R&D, application, and engineering of process technologies. His expertise includes hydroprocessing technology R&D, catalytic kinetics, process simulation, process design, project management, as well as sales and technical support in oil sands, upgrading/refining, and oil & gas industries.
Prior to joining Genoil Inc., during 1998 to 2015, he had been worked with Suncor Energy Inc., Jacobs Canada Inc., Aspen Technology Inc., and Calsim Technology to manage, design, and deliver over 20+ EPC projects at various engineering stages from scoping studies, DBM, FEED, detailed engineering, till construction/commissioning support. His engineering expertise of oil sands and upgrading in process modeling and simulation, process control, operation engineering, and process safety engineering had been utilized by the major oil producers – Suncor/Petro-Canada, Syncrude, Canadian Natural Resources Ltd, Shell Canada, BP, and Athabasca Oil Corporation.
Before moving to Canada, served as a process lead, he worked at Beijing Research Institute of Chemical Engineering of BUCT to lead, manage and implement over 20 lab/pilot/field R&D projects on catalytic kinetics, reactor technology evaluations, and performance enhancement by forced unsteady-state operations. These prototyping technologies have been successfully applied to the hydroprocessing reactor analysis, design and operation for SINOPEC companies.