November 11, 2017 – Genoil Inc. (GNOLF), the publicly traded clean technology engineering company for the petroleum industry, today announced the signing of a strategic partnership with Vung Ro Petroleum (VRP), a leading independent petroleum company in Vietnam. Genoil's advanced upgrading and desulphurisation technology will be incorporated into the future development of VRP's $4 billion refinery project in Hanoi, while the two companies will also collaborate to develop joint opportunities.
Genoil and VRP will work together to exploit the potential for the requirement of low sulphur fuel in the region, combining the technological capability of Genoil's Hydroconversion Upgrader (GHU) with the development initiatives of VRP. Partnerships and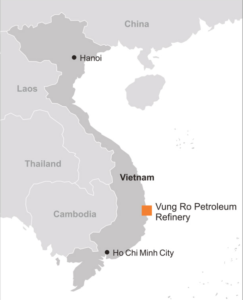 opportunities with ship owners will also be considered due to the impending implementation of the IMO's MARPOL Annex VI regulation in 2020, which requires ship owners to burn fuel oil with a sulphur content of less than 0.5%. Low sulphur fuel from Genoil's GHU is the most viable 2020 compliance solution, because it uses considerably improved and proven fixed bed reactor technology, and does not alter the fuel quality.
Genoil's GHU converts heavy or sour crude oil into much more valuable, compliant low sulphur oil, for a low cost.  The upgrader can be utilized in refineries to increase the volume output of light oil production by 15-20%. Desulphurising the oil will also help refiners to comply with environmental regulations. The GHU is designed to be versatile and can be placed at many different locations, either upstream at oil fields or downstream at refineries, as well as in a standalone form in ports.
Vung Ro Petroleum is headquartered in Hanoi, Vietnam. The VRP refinery project is a $4billion oil refinery, petrochemical and seaport development with a 8 MTPA (160,000 barrels per day) capability and is located in the South Phu Yen Economic Zone in the Dong Hoa district of Phu Yen province. The project has successfully passed the basic engineering design and FEED stages. The incorporation of the GHU into Phase 2 of the refinery development will enable the VRP refinery to be even more competitive on the global market and provide low sulphur fuel for the maritime sector.
Commenting on the partnership, Bruce Abbott, COO of Genoil, said: "Genoil has numerous agreements in place across the globe with leading petrochemical and refining organisations as well as scientific institutions. In combination with Vung Ro Petroleum we can deliver low cost, compliant fuels to the marine industry across South East Asia, taking away the genuine commercial and operational challenges that ship owners will face come 2020."
About Genoil Inc.:
Genoil is a publicly quoted clean technology engineering company for the petroleum industries.   Genoil is headquartered in New York City.  Genoil has developed its proprietary technology, the Hydroconversion Upgrader (GHU), which converts heavy crude oils and refinery bottoms into clean burning fuels for transportation industries including shipping.  The GHU can be placed in remote locations, including receiving terminals, pipelines and ports.  The company operates one of the largest and most advanced pilot & design test facilities in the world, from its 147-acre site.
About The Genoil Hydroconversion Upgrader:
The Genoil Hydroconversion Upgrader (GHU®), is an advanced upgrading and desulfurization technology, which converts heavy or sour crude oil into much more valuable light low sulphur oil for a very low cost. The Genoil GHU was designed to be versatile, can be placed at many different locations, either upstream at oil fields, or downstream at refineries, in a standalone form at ports and other logistical locations.
The GHU achieves 96% pitch conversion and 95% desulfurization with an operating cost of up to 75% less than the competition. For Conoco Canada Ltd, Genoil converted their bitumen of 6-8.5 API and converted it to 24.5 API.  We also removed 92% of the sulphur reducing the amount from 5.14 % to below 0.24%. These results were taken by Conoco Canada Ltd, who had them analysed by Core Laboratories, one of the largest service providers of core and fluid analysis in the petroleum industry.
About Vung Ro Petroleum:
Vung Ro Petroleum is headquartered in Hanoi, Vietnam. The VRP refinery project is a $4billion oil refinery, petrochemical and seaport development with a 8 MTPA (160,000 barrels per day) capability and is located in the South Phu Yen Economic Zone in the Dong Hoa district of Phu Yen province. The project has successfully passed the basic engineering design and FEED stages