Developed by Paul Costinel in his quest for developing a breakthrough in the realm of hydrogen generation, Genoil has developed a remarkable centrifuge known as Allegretto. We recognize that Allegretto can be utilized for purposes other than utilizing it as an integral element within our hydrogen research. Please feel free to contact us.
Allegretto is a high speed centrifuge, the result of recent efforts aimed at advancing a novel hydrogen generator based on gravitational electrolysis.The centrifuge can also function as a unique form of centrifugal disk stack separator. The Allegretto centrifuge has been successfully tested at 30,000 rpm, which is twice the rotational speed of the fastest known separator of this kind. The centrifugal forces generated by the separator exceed 55,000 G's, allowing for the separation of two immiscible liquids with extremely close densities.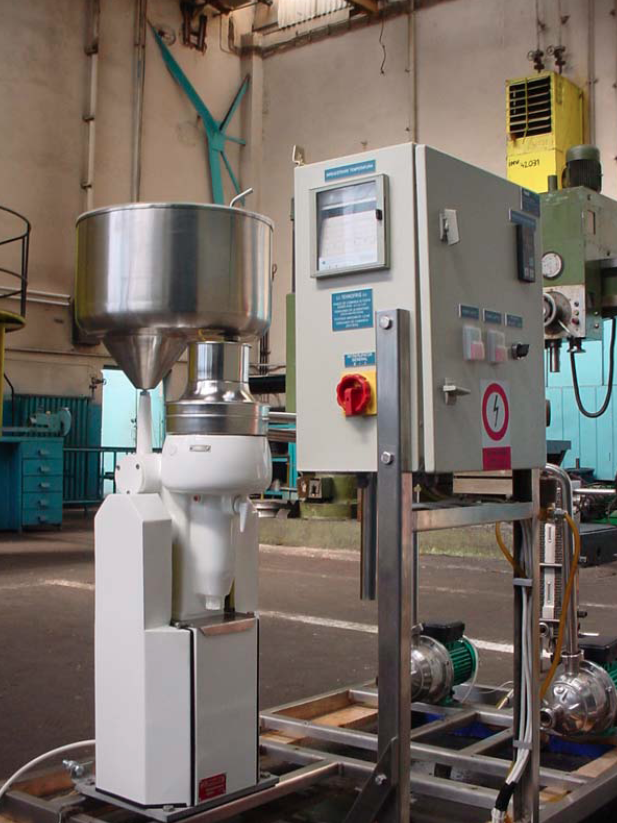 Centrifuge Specs:
Capacity: 1000 liters/hour.

Type: Purifier.

Maximum rotational speed: 30,000 rpm.

Height: 1140 mm.

Length: 620 mm.

Depth: 620 mm.

Weight: 100 Kg.

Bowl I.D.: 140 mm.

Bowl O.D.: 170 mm.

Electric motor: 400 VAC, 3 phase.

Power: 3 KW.

Nominal speed: 24,000 rpm.

Maximum speed with cooled bearings: 30,000 rpm.
This remarkable separation capability, in conjunction with a flexible throughput from 100-250 gallons per hour, renders Allegretto uniquely suitable for applications that are unattainable by conventional disk stack separators. In our view Allegretto is a marvel of engineering design. Its development shows painstaking efforts in solving some of the most insurmountable problems posed by extremely high rotational speeds. In order to withstand severe stresses, each component was individually designed by means of the latest computer program specifically developed to calculate centrifugal forces, pressures, dimensions etc. at various orders of magnitude.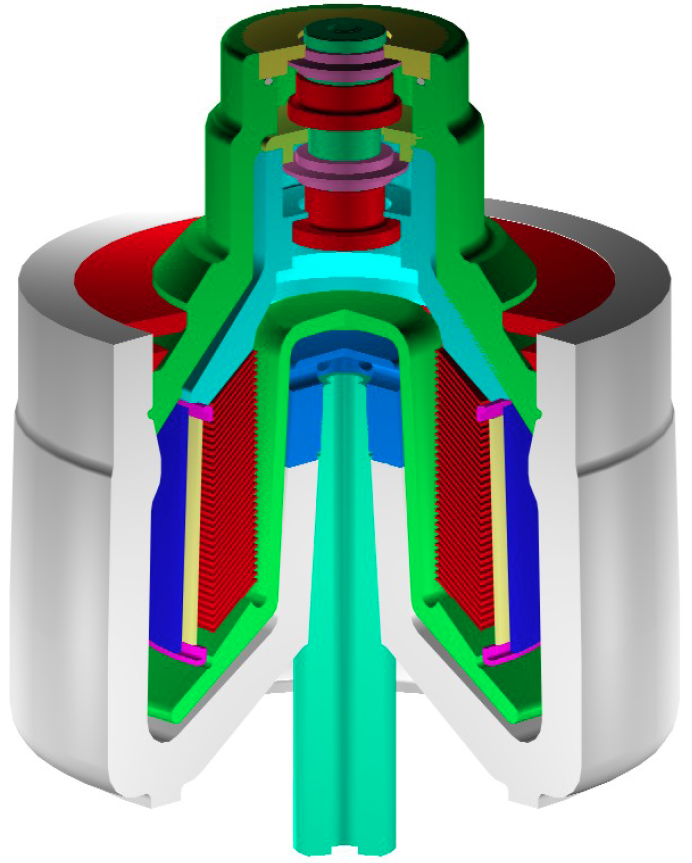 The materials utilized for manufacturing the rotating components were carefully selected and then subjected to forging procedures and heat treatments specially devised for the task. Extensive tests were carried out to assess the qualities of the components after each heat treatment.
Corrosion by acids was given particular consideration and numerous lab tests were carried out to determine the corrosion resistance of the selected materials. For the most demanding applications, our team devised a special coating applied in controlled conditions to make the bowl impervious to virtually any corrosive attack. An innovative seal around the periphery of the bowl was designed to prevent any leaks and withstand pressures exceeding 3,000 psi, a task complicated by a highly acidic operating environment.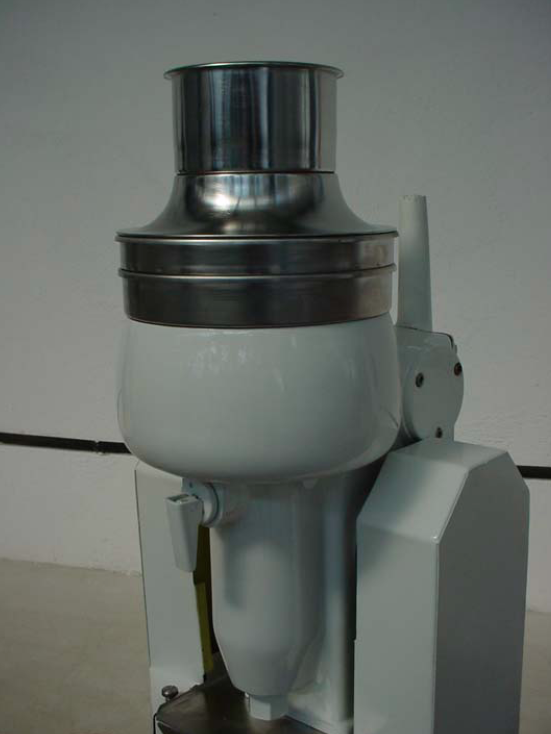 Further innovation was required for a frictionless seal around the shaft devised to preclude premature wear and tear, otherwise unavoidable at 30,000 rpm. Custom tools, dies and calibrating devices were specifically designed and manufactured for each component. Due to the centrifuge's unprecedented operating speed, extremely accurate balancing of the rotating components was required. In order to reduce mass imbalances and air friction, all rotating parts were lapped to a mirror finish. Furthermore, a unique device was designed to dampen bearing vibrations through a special configuration that provides adequate lubrication while preventing mist carryover to other areas.An electric motor was also specially built by a specialized manufacturer for rotating the centrifuge at 30,000 rpm. Capable of withstanding centrifugal forces associated with Allegretto's operating conditions, the motor also utilizes bearings engineered for high temperatures. A specially designed coupling, directly connecting the motor to the centrifuge shaft ensures precise alignment in order to minimize vibrations.
Paul believes that due to its uniqueness our centrifugal separator may have variety of commercial applications in a virtually competition-free market niche. We need to identify distinct applications which require extremely high G forces and therefore seek a partner with valuable experience in this field.
Cooperation with our partner would result in adapting and building the unit for a specific function and then bringing the product to the market. Potential applications may include cosmetics, pharmaceutics, food or chemical industries.
Genoil is seeking a partner with the ability to identify distinct applications for the super-centrifuge with the ultimate goal of bringing the product to market. Potential applications may include cosmetics, pharmaceuticals, food or chemical industries. We believe that we have designed one of the most advanced separators currently in existence. Paul envisions a wide variety of potential commercial applications in a virtually competition free market niche.