Genoil Design Testing Facility
The objectives of the design tests were to:
Demonstrate the Genoil GHU® technology under field conditions.
Increase refining profits by up to $50.00 per barrel.
Elucidate the environmental benefits from elimination of sulfur and nitrogen, (carbon reduction) and other toxic impurities example: acid rain, global warming.
Confirm that the mechanisms of the upgrading process worked as proposed.
Optimize the hydrogen addition (self sufficient process requires no external source).
Produce with hydrogen addition an upgraded oil at the lowest possible temperature and pressure.
Establish the operating conditions to achieve the product specifications.
Obtain complete heat and mass balances for future design correlations.
Eliminates the most damaging impurities such as sulfur compounds which breakdowns into concentrated corrodants.
Provide information to proceed with the scale-up of the technology to 1,000-10,000 bpd.
In a series of 28 separate field tests, Genoil evaluated what improvements heavy oil upgrading improvements could be expected with this heavy Canadian bitumen feed stock (12.5° API, density of 982.6) at temperatures between 385 and 429°C (725 and 805°F), pressures from 3,515 to 12,125 kPa (500 to 1,725 psig), hydrogen/oil ratios between 890 and 1,780 Nm3/m3 (5,000 and 10,000 scf/b), without catalyst (hydrovisbreaking) and with catalyst (hydroconversion). The initial purpose of these tests was to reduce the bitumen viscosity sufficiently to meet the pipeline viscosity target without the need for diluents. A reduction in the bitumen viscosity of 75% was achieved at a moderate pressure of 5,270 kPa (750 psig). The bitumen viscosity was reduced by more than 90% at higher temperatures and pressures (427°C, 12,120 kPa; 800°F, 1725 psig). However, even at these conditions, the °API gravity was increased only by about 2° and the sulphur reduction was less than 10%.
To improve further the quality of the upgraded oil, a high activity hydrotreating catalyst was added to the system. With such a catalyst, API gravity improvements up to 12.5° (density decrease of 78.5) were achieved together with desulphurization levels up to 92% and a viscosity reduction close to 99%. For this high severity service, the Genoil GHU® design test was operated at around 12,000 kPa (1,700 psig)
Properties

Feed

Hydro
Visbreaking

410Degrees C

Hydro
Visbreaking

427Degrees C

Hydro
Conversion

Hydro
Conversion

Gravity,°API

12.5

14.0

14.3

22.2

25.0

Density @15°C

981.5

972.5

970.5

919.8

903.0

Sulphur, wt%

3.26

0.46

0.28

Viscosity, cP @20°C

3,749

904

340

103

45

C5 Asphaltenes, wt%

12.2

7.4

3.3

Nickel, wppm

36

18

13

Vanadium, wppm

52

25

18

Viscosity Reduction, %

76

91

97

99

Desulphurization, %

86

92

Demetallization, %

51

65

Pressure, kPa

5,270

12,125

12,000

12,000

Pressure, psig

750

1,725

1,700

1,700

Temperature,°C (°F)

410 (770)

427 (800)
GHU® Design Test Results 
In another series of tests for a major Canadian producer, Genoil evaluated what heavy oil upgrading improvements could be expected with a very heavy (8.5 °API, density of 1,009.9) and very sour (5.14 wt% sulphur) Canadian bitumen feed stock at pressures up to 14,050 kPa (2,000 psig), a hydrogen/oil ratio of 1,070 Nm3/m3 (6,000 scf/b), and a high space velocity of 0.5 v/v.hr-1, both with a hydroprocessing catalyst (hydroconversion) and without a catalyst (hydrovisbreaking).
With this high activity hydrotreating catalyst, an API gravity improvement up to 16.3° (density decrease of 105) was achieved together with a desulphurization level up to 95%, demetallization up to 90%, and a vacuum residue (524+°C, 975+°F) conversion of almost 80%. These are outstanding results at such a high space velocity and reasonable operating temperatures. The product obtained through hydroconversion was stable, while the product from hydrovisbreaking was not stable (high bromine number).
Properties

Feed

Hydro
Conversion

Hydro
Visbreaking

Gravity,°API

8.5

24.8

17.0

Density @15°C

1,009.9

904.7

952.5

Sulphur, wt%

5.14

0.24

3.32

Nitrogen, wppm

2,680

1,430

3,060

Conradson Carbon, wt%

12.75

2.59

8.24

C5 Asphaltenes, wt%

17.3

1.6

8.9

C7 Asphaltenes, wt%

12.6

1.2

7.8

Nickel, wppm

77

8

61

Vanadium, wppm

196

18

163

Viscosity, cSt

2,399 @60°C

10.04 @40°C

29.85@40°C

Residue (524+°C), wt%

55.8

11.68

26.39

Desulphurization, %

95

35

Demetallization, %

90

18

Residue conversion, %

79

53
In 2005, Genoil conducted a series of 12 design test runs for a major international oil producer, to confirm the required operating conditions to upgrade a heavy oil (bitumen) from 17.5°API (density of 949.7) to a minimum of 34.0°API gravity (density of 849.8), while decreasing the sulphur content from 1.22 to below 0.6 wt%. These tests were conducted at pressures between 12,000 and 12,830 kPa (1,700 and 1,825 psig), and at average catalyst temperatures between 377 and 430 oC (710 and 806oF). The overall catalyst space velocity was 0.40 v/v.hr-1 for a 9 months catalyst cycle. At the previous temperatures and pressures, the desulphurization ranged from 75 to 97%, denitrogenation from 37 to 53%, metal removal from 76 to 98%, Conradson Carbon reduction from 47 to 87% and the pitch (535+ oC, 995+°F) conversion from 37 to 95%. The hydrocracked products were stable at all conditions, even with the high space velocity used in the Genoil tests versus the ones practiced in traditional hydroprocessing processes.
| | | |
| --- | --- | --- |
| At the selected operating conditions | Bitumen Feed | Synthetic Crude Product |
| API Gravity | 17.5 | 35.0 |
| Specific Gravity | 0.9497 | 0.8498 |
| Sulphur, wt% | 1.22 | 0.038 |
| Metals, wppm | 77 | <1.5 |
| Conradson Carbon, wt% | 7.4 | <1 |
| Nitrogen, wt% | 0.286 | 0.135 |
| Aromatics, % | 42.4 | |
| 369+C, wt% (vol %) | 75.75 (77.9) | |
| 509+C, wt% (vol %) | 50.92 (51.8) | |
| 535+C, wt% (vol %) | 41.74 (42.1) | 5.04 (4.23) |
Summary of Distillation by Product in Upgraded Barrel of Crude:
Upgraded Crude
Product Yields

Full Range Naphtha

Kerosene

Heavy
Diesel

Vacuum Gas Oil

Vacuum Residue

TBP, C

IBP to 200

200 to 300

300 to 350

350 to 535

535+

TBP, F

IBP to 392

392 to 572

572 to 662

662 to 995

995+

Weight, %

20.18

30.89

16.45

27.44

5.04

Volume,%

22.77

31.32

16.01

25.67

4.23
Genoil GHU® Design Test Plant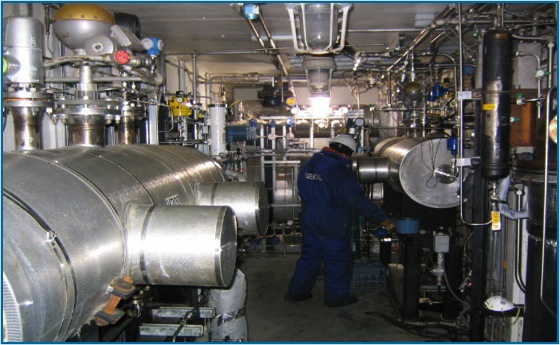 GENOIL GHU® HEAVY OIL UPGRADING FACILITY
SIMPLIFIED PROCESS FLOW DIAGRAM